The foundation was created on 17th April, 2010 in the city of Bogotá, through the initiative of a group of citizens who were aware that it was both necessary and convenient to help, support, advise and provide appropriate and specialised attention to people lacking financial resources suffering from genetic diseases, or who were undergoing diagnosis in order to confirm such a disease.  
The foundation is a non-profit-making organization dedicated to the development of specialised programs that benefit the unprotected sectors of Colombian society, with a special focus on people and families who suffer of diseases causing handicapped conditions.  
We invite you to have a look at our programmes, understand our reasons and above all help us to help others.
.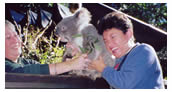 This group comprises volunteers of  FUNDALDE, teachers from the "Instituto de Genetica Humana" (IGH) from the Universidad Javeriana and from other institutions of higher education, as well as students from the Instituto de Genética at the Javeriana and other universities.  Also involved are other external professional advisers from various institutions and FUNDALDE (the  FOUNDATION FOR THE RIGHT TO BE A HANDICAP).
Together with the many individuals mentioned above, we also count with support from several institutions, namely the Instituto de Genética Humana, at the Hospital San Ignacio, the Hospital Simón Bolívar, the Fundación Oftalmológica Nacional, the Faculty of Social Work at the Universidad-Colegio Mayor de Cundinamarca and the Red Colombiana de Medicina Genética- PREGEN.


There are two types of donations. 

The first is for the upkeep the regular programs of  the foundation itself. 

The second is the GODFATHER program, which means that you "adopt" a family with handicapped members and, you give them a set monthly donation, thus guaranteeing them a monthly income, for at least a year. 
.